It has been revealed that the '2011 Konami SanDiego Comic-Com Cosplay Contest' winner, pictured below, was using a deadly accomplice to weed out the competition — permanently.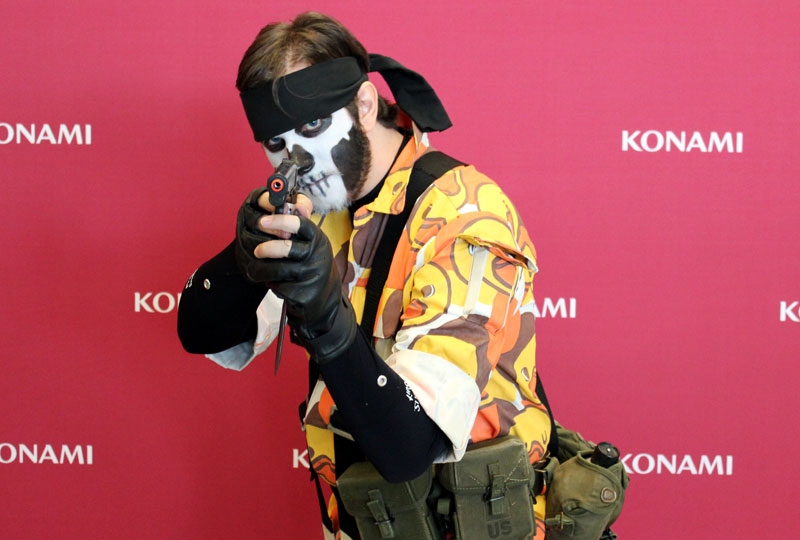 Yes, while the disturbing crimes have yet to catch the attention of the media or the authorities, the exclusive SnakeSoup reports that this year's "best in show" winner hired a fellow ninja to assassinate the competition with a single goal in mind: to capture the coveted Ga-Ko.
So while we know about the heinous plot, the identity of the "winner" remains illusive, hidden behind impenetrable face paint.
Could it possibly be the brokenhearted 2010 Comic-Com Cosplay Contest loser that I discovered last year?  The original news piece is archived here, but I have re-produced it for your consideration…
July 24, 2010: Kojima likes these costumes

In an apparent bid to stifle the neverending parade of Naked Snake/Big Boss cosplayers who've been clogging up the psychotic Metal Gear cosplaying scene for years, Kojima has given both 1st and 2nd place prizes to these folks:

 See that broken-hearted Naked Snake in the background? Hmm, why don't I remember Raiden having bare legs before? In any case, it was good enough to catch Kojima's eye, so there you have it. [Source]
Is it possible that the ninja involved in this murder plot is somehow one of these two winners from last year as well?  How long have these people been in secret cooperation?  Just how deep does this mystery go?  As the bodies continue to pile up, I fear that we will see them again next year…